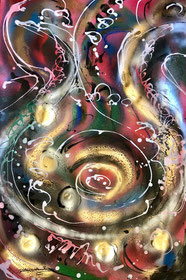 愛すれば愛するほど愛おしさは増し、
憎しめば憎しむほど憎しみが増す。
純粋な愛には本来、憎しみは伴わない。
愛と憎しみは表裏一体ではない。
それぞれが別のものである。
心からの愛があるのなら、同じ人物に対して愛と憎しみが同時進行する事などないのだ。
愛は素晴らしい。
与えるほうも受け取る方も幸せが増大するからだ。
愛は大切なものを守っていく。
しかし憎しみとは醜い。
憎しみは自分の破滅しか生まないからだ。
だが、愛や正義に反する事柄に対しては、積極的に憎しんだ方が良い。
たとえその憎しみで自分が破壊されても、それは清さの証明になる。
その清さは必ず自分を守るだろう。
--------------------------------------------------------------------------------------------------------------------------------
Love and hate
The more you love the more you love it more,
The hatred grows more hateful if you hate it.
Originally pure love does not involve hatred.
Love and hatred are not coincident.
Each is a different thing.
If there is love from the heart, there will be no simultaneous progression of love and hatred for the same person.
Love is wonderful.
Because happiness will increase for both giving and receiving.
Love keeps important things.
But hatred is ugly.
Hatred produces only his destruction.
However, it is better to actively hate those things that are contrary to love and justice.
Even if you are destroyed with that hatred it will be a proof of cleanliness.
Its cleanliness will surely protect you.