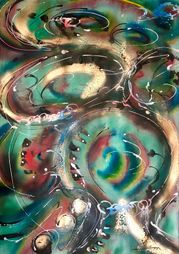 誠実さは嘘をつかない。
自分の願望に対して誠実であれ。
小さな願望も大きな願望も我慢すべきではない。
誠実さは夢と希望と明日を創る。
そして人にも物事にも誠実に接していれば、徳の道を踏み外すことなどないのである。
誠実さを保って、自分が一番小さいものだと謙虚に世界と触れあっていれば、この世は得るものばかりで失うものはない。
己と世界に対して誠実でいよう。
--------------------------------------------------------------------------------------------------------------------------------
Honesty
Honesty does not tell a lie.
Be honest with your own desires.
You should not put up with both small aspirations and great aspirations.
Honesty creates dreams and hopes and tomorrow.
And if we are honest with human beings and things, there is no stepping out of the way of virtue.
If you humbly touched the world with maintaining integrity and being the smallest one, there is nothing to lose but the world will only gain.
Let's be sincere with yourself and the world.