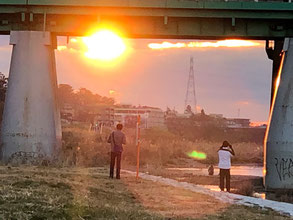 新しく年が明け、午前零時を聖堂のミサで迎えた。
人間の罪と業のために代表して死んだ教祖が、天と己の力で力強く復活したことを、一年の始まりに記念しに行くのである。
死と復活は、世界と人類が平和な歩みを、何度でも挫けながら創造し、チャレンジしていく模範である。
人生とは倒れては起き上るものだ。
何度でも倒れ、何度でも起き上る。
一日一日を信じて懸命に生きていれば、現世的な煩いの中で失った命は、何度でも新たにされるのである。
その後仮眠を取り、多摩川の河原に初日の出が上がるのを観に行った。
まだ暗いうちに静かな町を歩く。
多摩川に着くと、もう空は、地平線がオレンジ色に染まっていた。
闇の中で煌々と輝くオレンジ色のライン。
何と力強い意志を持った色だろうか。
しかし、大きな暗雲の塊に塞がれて、太陽は日の出時刻になっても姿を現さなかった。
日の出を見れずに、人々が諦めて帰り始めた頃、ようやく太陽が輝きだした。
その輝きの逞しさ。
何という生命の輝きだろうか。
諦めなければ、光を必ず訪れる。
--------------------------------------------------------------------------------------------------------------------------------
New Year
A new year has passed and midnight greeted me at the mass of the shrine.
Going to celebrate the beginning of the year that the gods who died on behalf of human sins and work strongly resurrected by the power of heaven and myself.
Death and resurrection are examples that the world and humankind create a peaceful walk, repeatedly crashing, and challenging.
Life is a thing to rise up if it collapses.
Life will fall over and over again and then it will rise again and again.
If you believe in one day a day and live a hard life, the life lost in this worldly annoyance will be renewed as many times as you want.
After that, I took a nap and went to see the sunrise rising on the bank of the Tama River.
Walking in a quiet town while still dark.
When I arrived at the Tama River, the sky was already dyed with the horizon orange.
An orange line shining brilliantly in the dark.
What a mighty will have color.
However, it was blocked by a massive dark cloud, and the sun did not appear in sunrise time.
Without seeing the sunrise, the people finally gave up and began to return, the sun finally glowed.
The strength of its glow.
What luster of life is it?
If you do not give up, light will definitely come.