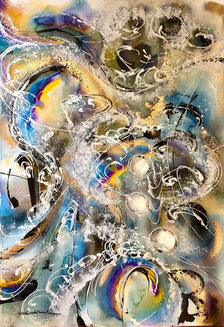 勉強とは、真実を見つける事と実践する事である。
どんな勉強でも、その中には真実が隠されている。
それを知識を得ながら、見つけていくのだ。
そして今度は、得た知識を現実世界で実践する。
そして真実を身体で体験する。
この実践するまでが、本当の勉強である。
ただ知識を得ただけでは、頭の記憶に過ぎない。
知識を現実で使う事までが、本当の勉強なのである。
--------------------------------------------------------------------------------------------------------------------------------
"Study"
Studying is finding and practicing the truth.
The truth is hidden in any study.
Find it while gaining knowledge.
This time, we will practice the acquired knowledge in the real world.
And experience the truth with the body.
Until this practice is carried out, it is real study.
Just getting knowledge is just a memory of your head.
The real study is to use knowledge in reality.