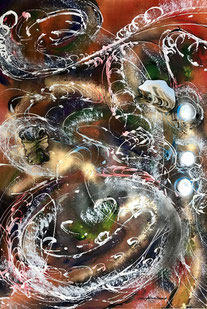 自由とは、心が何にも囚われていない事。
自分にも他者にも心を悩ましていない、心地良い人間関係。
欲望や惰性に心うばわれず、この世界の美しさに感動する純粋な気持ち。
そういう瞬間、人は自由になれる。
また、自ら提案する生き方を自分に課す事も、自由の一部である。
他者からの押しつけではない、自分で決めた自分の生き方に忠実になる事。
そういう二つの自由が合わさって、本当の自由が生みだされる。
囚われのない美しさ。
自分の決めた生き方。
その二つによって、いくらでも人は、自由になれるのである。
--------------------------------------------------------------------------------------------------------------------------------
"Freedom"
Freedom means that your heart is not locked in anything.
A pleasant relationship that does not bother you and others.
A pure feeling that impresses with the beauty of this world, without being swayed by desires and fertility.
At that moment, people can be free.
Also, imposing yourself a way of life that you propose is part of your freedom.
Be faithful to your own way of life that you have decided not to be imposed by others.
These two freedoms combine to create true freedom.
Beauty without captivity.
Your way of life.
With these two, people can be free as much as they want.