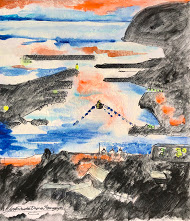 真鶴湾の朝が、静寂の夜を破って鳥たちの歌声で盛大に始まる。
あの海の水平線の彼方には何があるのだろうか。
知らない町であろうか。
朝の宵闇がオレンジ色に染まっていき、遠くを眺めてそう思う。
暗い海をかき分けて、港から漁船が出港する。
船がだんだん遠のいて小さな点になった時、その向こうの水平線から赤い光が輝いた。
太陽だ。
こことは違う陸地が遥か彼方にあっても、太陽は一様に大地を照らしてくれる。
遠い異国も、この大きな空で繋がっているのだ。
どこよりも強い赤い光をまきちらしながら、どの世界でも朝日は昇る。
世界の大きさをつくづくと感じる。
人類みな兄弟。
改めてそう思う。
小さな漁港の朝の光景が、大きな宇宙へ繋がっている。
--------------------------------------------------------------------------------------------------------------------------------
"Manazuru Bay"
The morning of Manazuru Bay breaks through the night of silence and begins with the singing voices of birds.
What is beyond the horizon of that sea?
Is it a town I don't know?
The darkness of the morning is dyed orange and I think so when I look into the distance.
Fishing boats depart from the port through the dark sea.
When the ship gradually became far away and became a small spot, a red light shone from the horizon beyond it.
The sun.
Even if there is a land far away from here, the sun will illuminate the earth uniformly.
Distant foreign countries are also connected in this big sky.
The sun rises in every world, shining with a stronger red light than anywhere else.
I feel that it will create the size of the world.
All humanity brothers.
I think so again.
The morning sight of a small fishing port leads to a large universe.