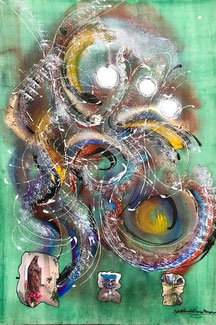 くたびれたら休めばいい。
でもそれまでは一生懸命歩いて行こう。
人は、何にもしないでも心がくたびれる。
だったらどこかを目指して歩いていたほうがいいじゃないか。
自分が一番自分になれる方向を目指して、自分全体を投入できるチャレンジングな道を進んでいこう。
やるだけやったら、また休めばいいだけだ。
日常生活や人生を冒険にして楽しもう。
--------------------------------------------------------------------------------------------------------------------------------
"Adventure"
If you get tired, you can rest.
But until then, walk hard.
People can get nervous without doing anything.
Then it would be better to walk somewhere.
Aiming for the direction in which you can be the most, go on a challenging path where you can put your whole life.
If you just do it, you just have to rest again.
Enjoy everyday and life as an adventure.