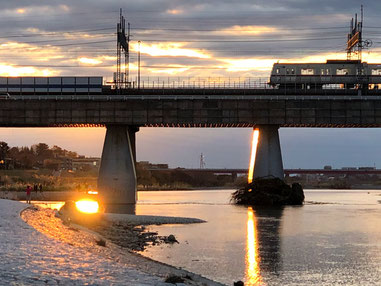 「2020スタート」
早朝6時50分。
多摩川の川辺でホット赤ワインを飲みながら、初日の出を待つ。
真っ暗やみの中だ。
厚い曇り空の立ち込める中、徐々に空が白んでいく。
暗雲がパッと切り裂けて、空の瞼のようになったところから、ぼかした陽光がオレンジ色に広がっていく。
空の太陽は、虚ろな形を天空に留めているだけだ。
しかし光が、川面に反射して逆さ日の出となり、見事に丸く輝いている。
今年の初日の出はそういうイレギュラーなの光の訪れであった。
自分が太陽のように確かに燃えていれば、
人にぼやけた形としてしか見えなくても、
その努力の影は、確かな形として世界へと映り込む。
そういう事の啓示だと思った。
"2020 start"
6:50 in the early morning.
Wait for the first sunrise while drinking hot red wine on the Tama River.
It's in darkness.
While the thick cloudy sky is standing, the sky gradually becomes white.
From where the dark clouds suddenly rip and look like eyelids in the sky, the blurred sunlight spreads orange.
The sun in the sky only keeps hollow shapes in the sky.
However, the light reflected on the river surface turned upside down at sunrise, brilliantly shining round.
The first sunrise of this year was such an irregular light.
If you are surely burning like the sun,
Even if it can only be seen as a blurry shape to humans,
The shadow of that effort is reflected in the world as a certain form.
I thought it was a revelation from heaven.