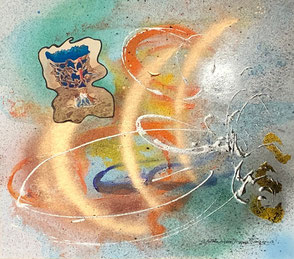 何があろうともやり続ける。
出来ない思いに囚われても、弱気な自分と向き合っても、それをやる。
絶望の中で迷いながら進んでも、嫌でもそれをやる。
嫌だ嫌だと、怠惰に沈んでも、身体と手足は動かしていく。
とにかくやる。
やって、やって、やり続ける。
やらないという事を止めてしまうくらいまで。
そうして、信じたものへと向かっていけば、必ず信じた以上の結果が出るのである。
継続は力なり。
--------------------------------------------------------------------------------------------------------------------------------
"Keep doing"
No matter what happens, keep doing it.
Whether you're stuck in a thought you can't do or face your bearish self, you do it.
Even if you get lost in despair, do it even if you don't like it.
If you don't like it or you sink in lazy, your body and limbs will move.
You do it anyway.
Do, do, keep doing.
Until you stop not doing it.
And if you go for what you believe, you will always get more results than you believe.
Continuation is power.