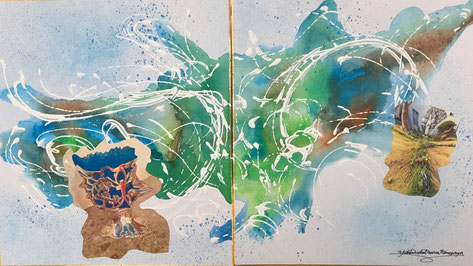 「光は彩る」
闇は消えない。
この宇宙全体が闇の暗黒物質で染まっているように。
しかし、光で照らすとあっという間に命は輝き始める。
闇の中にひしめいていた姿形が露わにされ、色も形も浮かび上がる。
それは世界を綺麗に美しく彩っていく。
人間もそうだ。
人間の闇も消えない。
しかし、姿形が神様によって露わにされたら、自分を輝かすしかない。
光は神様である。
闇から救い上げられて光で照らされたら、自分の個性という色や形を出すしかない。
愛や希望と、それを信じる力。
情熱や忍耐といった人間的努力。
困難を楽しく面白く遊ぼうというユニークさ。
それらが社会や世界を美しく彩っていくのである。
------------------------------------------------------------------------------------------------------------------------------
"Light colors"
Darkness does not disappear.
As if the whole universe was dyed with dark matter of darkness.
However, when illuminated with light, life starts to shine in no time.
The shape that was crowded in the darkness is exposed, and both the color and the shape emerge.
It colors the world brilliantly and beautifully.
So are humans.
Human darkness does not disappear.
However, if the figure is revealed by God, you have no choice but to shine yourself.
Light is God.
If you are rescued from the darkness and illuminated with light, you have no choice but to come up with the color and shape of your personality.
Love and hope and the power to believe it.
Human efforts such as passion and patience.
The uniqueness of playing difficulties with fun.
They color society and the world beautifully.