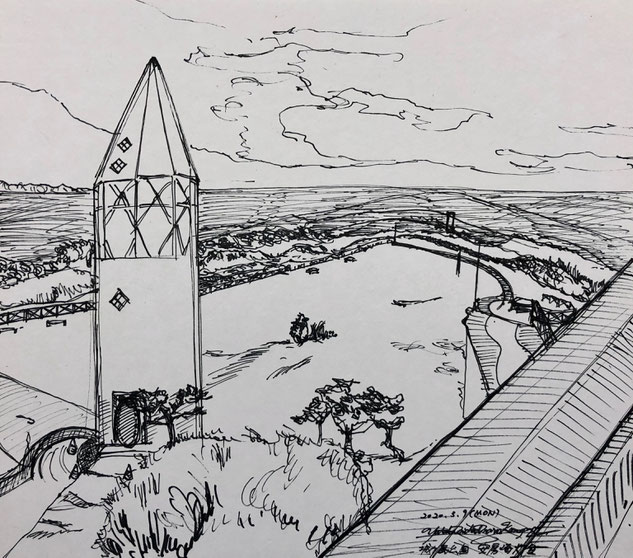 「三浦半島スケッチ旅行」
世の中がコロナウイルスで大変な最中に、三浦半島にスケッチ旅行に二泊三日で行った。
空気の良い、海と森に囲まれたところに行くので問題は何もない。
コロナがどうした!?という感じである。
とても楽しく有意義な旅だった。
少し前まで台風の影響で通れなかった小網代の森に行き、少しぬかるんだ道を南から北まで歩いた。
誰も他に人のいない海っぷちの草原の中で、強風に煽られながら、崎陽軒のシウマイ弁当を広げて堪能した。
そのあと城ヶ島に行き、ウミウ展望台、馬の背洞門で絶景を眺め、城ヶ島灯台と安房崎灯台の二つの灯台の周りで寛いだ。
女子旅ブームの影響で、女性の二人組、三人組がいたるところで見られ、観光客のほとんどは女性ばかりだった。
そして2日目には、三崎港本館でマグロのカブト焼きを人生で初めて食べた。
3日目は海南神社と油壺に行き、散策した。
食べ物はマグロづくしの美味しい三日間となった。
スケッチは色紙に8枚書いた。
2日目が雨だったので、三崎の宿で一気に描き上げた。
スマホや一眼レフで自前の写真を撮っておいて、見ながら描くスタイルだ。
手持ちぶたさに2枚抽象画も描き足した。
たくさん綺麗な風景を見て、楽しく面白い体験をして、その光景を計10枚も描き上げ、大変内容の濃いスケッチ旅行となった。
---------------------------------------------------------------------------------------------------------------------------------------------------
"Miura Peninsula Sketch Travel"
While the world was struggling with coronavirus, I went on a sketch trip to Miura Peninsula for three days.
There is nothing wrong with going to the air, surrounded by the sea and the forest.
What happened to Corona! ? It is a feeling.
It was a very fun and meaningful trip.
Until a while ago, I went to Koajiro Forest, where I was not able to pass because of the typhoon, and walked a little muddy road from south to north.
In the grassy plains of the sea where no one else is standing in, the wind blown by the strong winds and spread and enjoyed the Shiumai lunch box at Kiyoken.
After that, I went to Jogashima and enjoyed superb views at Umiu Observation Deck and Umanose Cave Gate, and relaxed around two lighthouses, Jogashima Lighthouse and Awasaki Lighthouse.
Due to the women's travel boom, women's duo and trio were seen everywhere, and most tourists were female.
On the second day, I ate Kabuto grilled tuna at Misaki Port Main Building for the first time in my life.
On the third day, we went to Kainan Shrine and Aburatsubo and took a walk.
The food was a delicious three days of tuna meat.
I drew 8 sketches on colored paper.
The second day was rainy, so I drew it all at a hotel in Misaki.
I take a picture of my own with a smartphone or SLR and draw while looking at it.
I also added 2 abstract paintings to my hand.
Seeing a lot of beautiful scenery, having a fun and interesting experience, and drawing up 10 scenes in total, it was a very rich sketch trip.