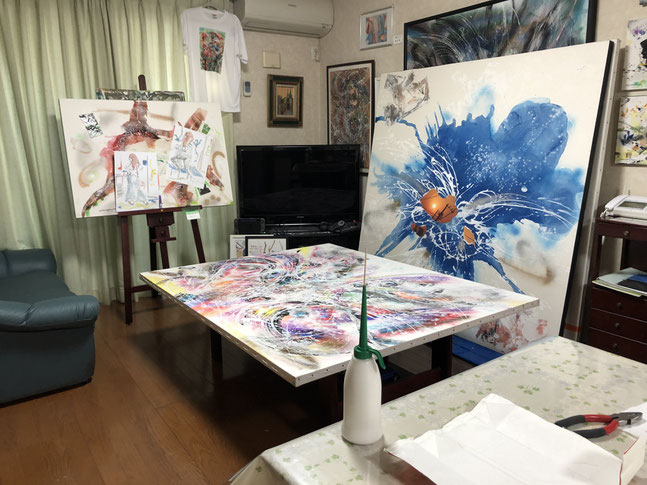 ---
「真似する作家達」
隣の人と同じことが出来たって、つまらないじゃないか。
違うことができるから、面白いのである。
自分が自分らしくあるのはそのオリジナル性であり、複製になったって仕方ないのだ。
芸術の世界では、人の作品や作風・手法を簡単にパクって、オリジナルの作家よりも作家然としているとんでもない輩達がいる。
私も何回パクられたことか。
そうやって真似したものを、立派な美術公募展に出して会友推薦や賞をもらったり、一流のギャラリーに出してSNSで宣伝しまくったり。
作品をパクって、社会の中で乱用する人々が後を絶たない。
そう言う人が裏でこっそり言うセリフはこうである。
「この世界、パクってなんぼよ!」と。
まるで泥棒じゃないか。
私は表向きは許してはいるが、本当はパクって名をあげた人たちに慰謝料を請求したいくらいだ。
だが、そういう人に教えてあげたい。
真似だけじゃこの世界、生きていけないよ、と。
自分から生み出す力がない人は、作家生命を失い、自然淘汰されるのである。
---
"Artists who imitate"
It's boring to be able to do the same thing as the person next door.
It's interesting because you can do different things.
What you are like is its originality, and it can't be helped to be a duplicate.
In the world of art, there are ridiculous people who are more like artists than the original artists by easily slamming other people's works, styles and methods.
How many times have I been copied?
A person who puts out something imitated in this way at a fine art open call exhibition to receive member recommendations and awards, or puts it out in a first-class gallery and promotes it on SNS.
There is no end to the people who abuse the work and abuse it in society.
This is the line that people who say so secretly say behind the scenes.
"In this world, steal!"
It's like a thief.
I'm ostensibly forgiving, but I'd really like to charge a compliment to those who have made a name for themselves.
However, I would like to teach such a person.
You can't live in this world just by imitating.
Those who do not have the power to create themselves lose their life as an artist and are naturally selected.
---