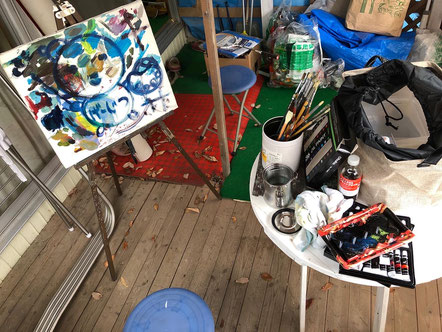 ---
「山梨県の12月」
深夜、山に冷たい雨が音を立てて降っている。
管理棟のトタンの外壁にガシガシと雨粒が打ち付ける。
外は闇だ。
山の夜は本当に暗い。
冷たく暗く、まるで何者かが雨音に変えて襲ってくるようだ。
まあ、私は超常的な怖さはそんなに怖くもないのだが、暗闇にまぎれて幽霊が出るような雰囲気も時たま感じる。
しかし何はともあれ、自然の環境音を、私対自然だけで直接的に体験できるのはありがたいことである。
12月の山梨県はどんな景色なのか東京では想像がつかなかった。
着いてみたら、紅葉がまだ続き綺麗な赤い山が広がっていた。
これが山梨の12月か。
寒さも東京と変わらずそんなでもない。
ここはまるで都会の喧騒とは別世界。
人が歩いていても、たまに近所の人が2、3人通るばかりで、おおらかな時間が流れている。
山を降り、田んぼの畦道を歩くと私しか歩いていない。
四方八方が山の壮大な大自然。
虫の大きさがデカイ。
鳥の大きさがデカイ。
鹿が朝からキューっと鳴く。
なんでもござれ大自然。という感じなのだ。
村の人とも仲良くなったので連絡を取れば遊べるし、1人になりたきゃ冬景色の中ずっと1人にも浸れる。
キャンプ場業務はやりがいがあり楽しいが、それ以外の時間誰にも邪魔されず、1人で静かな時間を山で過ごせることに感謝したい。
---
"December in Yamanashi Prefecture"
At midnight, cold rain is making noise in the mountains.
Raindrops hit the outer wall of the galvanized iron in the administration building.
The outside is dark.
The night in the mountains is really dark.
It's cold and dark, and it's as if someone is attacking with the sound of rain.
Well, I'm not so scared of paranormal fear, but sometimes I feel the atmosphere of ghosts in the darkness.
But anyway, I'm grateful that I can directly experience the environmental sounds of nature only by myself vs. nature.
I couldn't imagine what kind of scenery Yamanashi prefecture would look like in December in Tokyo.
When I arrived, the autumn leaves were still there and a beautiful red mountain was spreading.
Is this December in Yamanashi?
It's not as cold as in Tokyo.
This is a world different from the hustle and bustle of the city.
Even if people are walking, there are only a few neighbors passing by, and a laid-back time is flowing.
When I got off the mountain and walked along the ridge of the rice field, I was the only one walking.
The magnificent nature of the mountains on all sides.
The size of the insect is huge.
The size of the bird is huge.
The deer squeaks from the morning.
Everything is nature. It's like that.
I've become friends with the villagers, so I can play if I get in touch, and if I want to be alone, I'll be immersed in the winter scenery all the time.
The campsite work is rewarding and fun, but I would like to thank you for spending a quiet time alone in the mountains without being disturbed by anyone else.
---