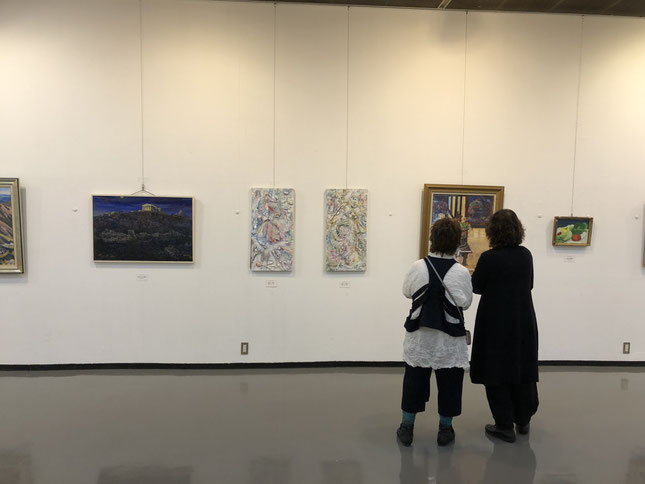 ---
「2021年港の作家小品展初日」
港の作家小品展が始まった。
初日の朝6時に作品を持って家を出て、山下公園に7時半に着いた。
朝早いのは、満員電車で作品を運ぶのは無理だからである。
最近は朝活の影響で、7時からもう電車は混み出す。
早朝の真っ暗な街に繰り出したおかげで、思惑通り少し空いた電車で快適に作品を運ぶことができた。
海を見ながらオニギリを食べて1時間ばかりくつろいでから、県民ホールへと向かった。
8時半頃、もう事務局長の森さんは県民ホール裏口に着いて、公園のベンチにいる私を電話で呼んだのだった。
9時に開館し、森さんと2人で入館して、準備を始めた。
地下一階から一階まで吹き抜ける高い天井。
縦に横に広々とした真っ白な空間。
やはり今までの展示会場とは規模の大きさにおいてワケが違う。
10時過ぎると、どんどん会員がやって来て、私は場所決めのためのカードを床に並べていった。
展覧会委員長の紀井さんが指示を出して、美術業者アートンが作品飾り付けを頑張って、若手の元田君と僕が補佐的にたくさん働き、無事見事に準備は終わった。
素晴らし飾り付けとなり、どこの展覧会にも見劣りしない、良い展示になったと思う。
港の作家美術協会は、絵のレベルが大変高い。
気合の入り方もズバ抜けて違う。
みんなこの展覧会のために、いつも渾身の力作を描いて持ってくる。
会員同士の序列もなければ、賞もない団体だが、和気藹々と切磋琢磨している和やかな会なのである。
昼食は、山下公園で海沿いの植え込みに座り、オニギリまた食べ、その後近くのジョナサンでデカンタの白ワインを飲んだ。
もう朝からへとへとに疲れていて、軽く気持ちよくなりたかったからである。
昼過ぎ2時頃に、新しく入った荒川君が来て、会場は盛り上がった。
彼はSNSで知り合った、ハンドドローイングで墨絵を描く仲良しの作家である。
最近、彼が港の作家美術協会に入りたいというので、僕が推薦して入れたのだった。
二人で記念写真を撮り、4時に会場を後にした。
その後山下公園や象の鼻パークの海沿いを散歩し、二人で一緒にそれぞれ帰途についた。
大変な初日だったが、全てが無事良い方向に片付いて、万事有意義な1日だった。
---
"2021 Port Artist Pieces Exhibition First Day"
An exhibition of small pieces by artists from the port has begun.
I left home with my work at 6 am on the first day and arrived at Yamashita Park at 7:30.
Early in the morning, it is impossible to carry the work on a crowded train.
Recently, due to the influence of morning activities, the train is already crowded from 7 o'clock.
Thanks to going out to the pitch-black city in the early morning, I was able to carry it comfortably on a slightly vacant train as expected.
After eating rice balls while looking at the sea and relaxing for about an hour, I headed to the Kenmin Hall.
At around 8:30, Ms. Mori, the secretary general, arrived at the back door of the Kenmin Hall and called me on the bench in the park by phone.
The museum opened at 9 o'clock, and Mori and I entered the museum together and started preparations.
A high ceiling that blows through from the first basement floor to the first floor.
A pure white space that is spacious vertically and horizontally.
After all, the reason is different in terms of scale from the exhibition halls so far.
After 10 o'clock, more and more members came and I lined up the cards for deciding the place on the floor.
Mr. Kii, the chairman of the exhibition, gave instructions, the trader Arton worked hard to decorate the work, and young Motoda and I worked a lot as assistants, and the preparation was completed successfully.
It was a wonderful decoration, and I think it was a good exhibition that was not inferior to any other exhibition.
The Minato Artist Art Association has a very high level of painting.
The way to get in the mood is also different.
Everyone always draws and brings a masterpiece of the whole body for this exhibition.
Although it is an organization with no rank among members and no awards, it is a peaceful society where people can work together to hone their skills.
For lunch, I sat in a planting by the sea at Yamashita Park, ate rice balls again, and then drank decanter white wine at nearby Jonathan.
I was tired from the morning and wanted to feel light and comfortable.
Around 2 o'clock in the afternoon, a newcomer, Mr. Arakawa, came and the venue was lively.
He is a good friend who draws sumi-e by hand drawing, which he met on SNS.
Recently, he wanted to join the Minato Artist Art Association, so I recommended him.
We took a commemorative photo and left the venue at 4 o'clock.
After that, we took a walk along the seaside of Yamashita Park and Zou-no-hana Park, and we both went home.
It was a tough first day, but everything was done in a good way and everything was a meaningful day.