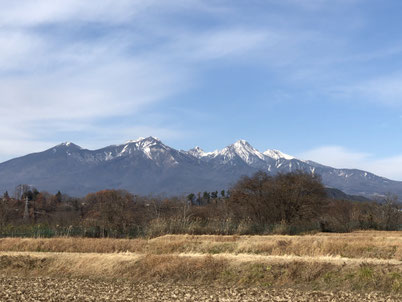 ---
「山」
山は季節と時間によって色を変える。
刻一刻と。
緑に、薄紫に、青に、黄色に、赤に、オレンジに、白に。
実はカラフル極まりない。
全部の色が揃っている。
また、遠景だと、時たま霧の中に消えてしまうこともある。
山はまるで、1人の人間の一生や、多くの人間の多様性のように、衣替えをする。
そんなふうに山を感じたのは、最近になって初めてである。
今までは、山は山だなあ、としか思ってなかった。
そうだ、山も生きているのだな!
木々や、動物や、昆虫や、人間など、多くの命を自分の体に宿して、山自体も生きているんじゃないかなあ。
山が、あるところでは山自体が神様で、信仰の対象になっているのもわかる。
山はただ土が盛ってあるだけじゃない。
深い精神性を宿す命の源なのだ。
---
"Mountain"
Mountains change color depending on the season and time.
Every moment.
To green, to light purple, to blue, to yellow, to red, to orange, to white.
In fact, it's extremely colorful.
All colors are available.
Also, in the distant view, it sometimes disappears in the fog.
Mountains change clothes, like the life of one person or the diversity of many people.
It's the first time I've felt a mountain like that recently.
Until now, I only thought that mountains were mountains.
Yes, the mountains are alive too!
I wonder if the mountains themselves are alive, with many lives in their bodies, such as trees, animals, insects, and humans.
You can also see that the mountain itself is a god in some places and is the object of worship.
Mountains aren't just full of soil.
It is the source of life with a deep spirituality.
---