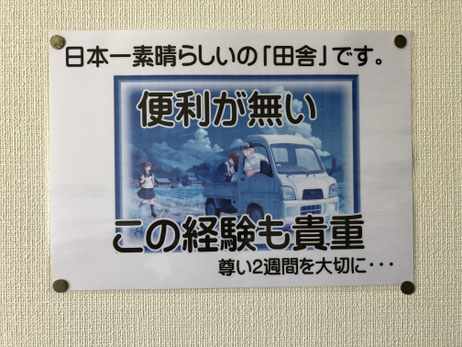 ---
「教習4日目」
四日目になって学科勉強も運転実施訓練もだいぶ積み重なってきた。
連日5時間講習でどんどんと講習は進み、受講内容を頭と体で覚えるのに追いついていくだけで精一杯だ。
寮に戻ったら復習したりイメトレしないと間に合わない。
もう仮免に必要なほとんどの項目をクリアし、効果測定も3回やって1回合格した。
寮での生活ももう慣れた。
寮内は、面倒見役の男性が優しく、食事も美味しいし、何しろ静かで良い。
教習所の閑散期に合宿したため、実習生の数も少なく快適である。
勉強にはもってこいの環境が整っている。
長坂教習所は、すぐ視線を先に移せば山が広がっている。
空気も水も美味しい。
便利さは少ないが、景色も環境も良く、本当に良いところである。
---
"4th day of training"
On the 4th day, the department study and the driving training have accumulated a lot.
The course progresses steadily with 5 hours of training every day, and I can do my best just to catch up with learning the content of the course with my head and body.
When I return to the dormitory, I have to review and imitate it in time.
Already cleared most of the items required for provisional exemption, and passed the effect measurement once in three times.
I'm used to living in the dormitory.
In the dormitory, the man who takes care of the dormitory students is kind, the food is delicious, and it is quiet and good.
Since I camp during the off-season of the driving school, the number of trainees is small and it is comfortable.
The environment is perfect for studying.
At Nagasaka Driving School, if you move your eyes first, the mountains are spreading.
The air and water are delicious.
It's not very convenient, but the scenery and environment are good, so it's a really good place.
---