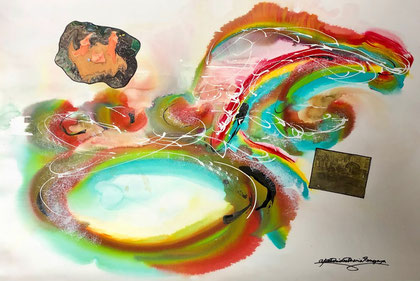 カニは真っ赤で一生を過ごす。
インコはパステルカラーで一生を過ごす。
クジャクは虹の尾羽根で一生を過ごす。
動物達は色んな色で生まれてくるのに、色で争ったりしない。
決して互いの色を傷つけあわない。
人間も個性という色で彩られている。
だから人間もそういうふうになるべきである。
--------------------------------------------------------------------------------------------------------------------------------
"Color"
Crabs spend a lifetime in red.
Parakeets spend their entire life in pastel colors.
The peacock spends its life with a rainbow tail feather.
Although animals are born in various colors, they do not compete for colors.
Never hurt each other's colors.
Humans are also colored with personality.
So humans should be like that.