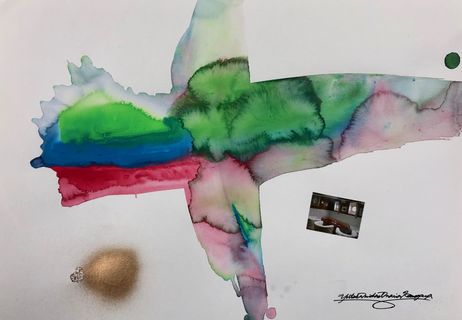 ---
「どうでも良い時間」
自分をかたち作るためには、どうでも良い時間も必要である。
一点に集中する事も大事だが、少しも集中しないで、だらける時間も必要だということだ。
漠然とした、何ものにも支配されない、雑然とした姿。
そこに内なる声の源泉があるからである。
全く集中しないで、脳をほったらかしにし、思いつくままに勝手に想像させる。
集中している時に得た知識や発想などを、無意識の中で暴走させるのである。
そうやって訪れた雑念は、自分をかたち作る背景に必ずなるのだ。
だらけて、どうでもよく過ごす、そういう時間も、自分を作り出すには全て必要なのだ。
---
"Wasteful time"
In order to shape yourself, you need unconscious time.
It's important to concentrate on one point, but it's also important that you don't concentrate at all and take time to relax.
A vague, cluttered figure that is not controlled by anything.
Because there is the source of the inner voice there.
Don't concentrate at all, leave your brain alone and let it imagine as you think.
The knowledge and ideas you have gained when you are focused are run unconsciously.
The thoughts that come to us inevitably become the background for shaping ourselves.
All the time you need to create yourself, such as being lazy and spending a lot of time, is all you need.
---