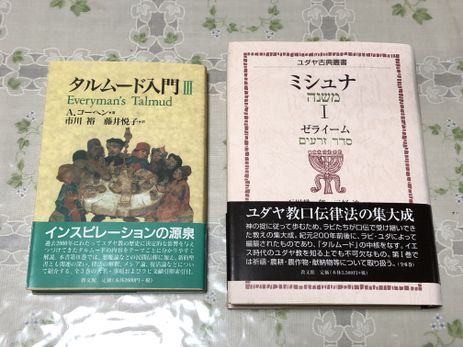 ---
「ミシュナとタルムード」
私はキリスト教聖書は旧約も新約も全てがわかっている。
だが今回もっと深く理解を進めたり再認識するため、ユダヤ教経典についての「ミシュナ」と「タルムード入門」を銀座教文館で買ってきた。
さあ、これから楽しい時間の始まりだ。
古代ユダヤ教の真理がそこに書いてある。
本当にキリスト教を解るためにはそこに書いてある定義が必要なのだ。
久しぶりの興奮で、読むのが心底ゾクゾクしてしまう。
血湧き肉踊る、とはこの事だろう。
---
"Mishnah and the Talmud"
I know the Old Testament and the New Testament in the Christian Bible.
However, in order to deepen my understanding and reaffirm this time, I bought "Mishnah" and "Introduction to Tarmud" about the Jewish scriptures at the Ginza Kyobunkwan.
Now it's time to start having a good time.
The truth of ancient Judaism is written there.
In order to really understand Christianity, the definition written there is necessary.
The excitement after a long time makes me really thrilled to read.
This is what it means to dance with blood.
---